The Grinch is the animated embodiment of how I usually feel during the holidays.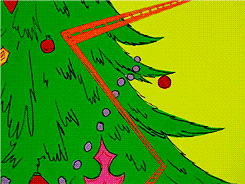 If you've known me for any length of time, you know the holidays are not my most perky time of the year. I don't claim to be a holiday spirit expert. I do, however, claim to know a bit more about holiday survival. 
To avoid a lengthy story, 5 years ago I lost my father and my grandfather right after Christmas and Thanksgiving respectively. I write a bit about the Thanksgiving feels in my article about Thanksgiving Turkey. Christmas is not a topic I like to chat much about. Now, however, with a touch of distance I feel like I am finally starting to come out of my Christmas funk and starting to celebrate and have a bit more gratitude towards this time of year. 
Now, this is not to say that the holidays some magical walk in the snow with some mystical clarity that 5 years has brought to me. Quite honestly, the holidays are a pain even if you are the human incarnation of Elf and can live on 40 minutes of sleep, live with Christmas songs on your Spotify all day, and eat candy until the reindeer come home.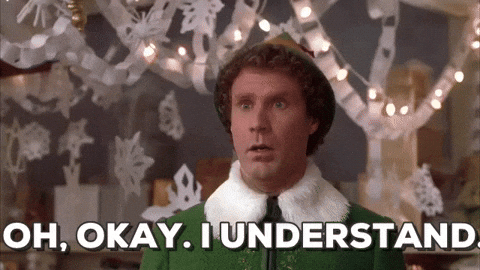 So here are my 5 things that I do for the holidays that get me in the holiday spirit but don't push me over the edge of holiday insanity.
1.) Decorate at a reasonable pace and as much as you are comfortable with. 
Let's be real, most of us aren't interior decorators and we don't have money to make it rain Christmas decorations. Every item you do have to decorate also doesn't have to be up on the day after Thanksgiving. You are not Target. You do not pitch Christmas the minute after the clock strikes 12 on Halloween. 

I put a wreath on the door after I get back from my turkey cooking down south for Thanksgiving. Then, in a few weeks before Christmas I put up my whopping 2.5ft pre-lit tree with my plastic ornaments on my Pier 1 teal table. I put up a string of clip lights to feature pictures from the year and cards that we received. Yes, I print pictures at CVS (upload online and they are like 33 cents. It's basically magic). Then, we give the pictures to family in Christmas cards and when they come to visit for Christmas morning brunch. Talk about an easy present.. ya know, if your family wants a picture of you. 

You don't need to have the most decorated house on the block, even if you have kids. Seriously. All that matters is that you decorate together and with things that remind you of each other. 

2.) Make Christmas Cookies 
This may seem a little strange with my – don't overdo mantra that I seem to be pitching here. Hear me out. Baking is actually pretty therapeutic for me. So, making cookies for people at work (until they find a hair in your cookies from either you or the animals in your house– which legit happened this year -total facepalm) and making cookies for the friends and family who stop by the house really just makes me happy. Baking doesn't make you happy? Don't bake. I won't know.

However, if you need recipes I found a killer new website this year: Taste of Home's 150 Cookie Recipes. 
3.) Make time to Wrap Presents — Mindfully

When I was a kid I hated wrapping presents. Like the sounds of the paper and the tape made my skin crawl. Now, being the slightly perfectionistic person I am I like the challenge of trying to fit all of my gifts into boxes and wrapping those rectangles and squares with matching pattern repeats. It's sick. I know. But again, one of those more relaxing things. It's also the only time I find Christmas music acceptable. Wrapping not your thing? Buy all the bags and toss those presents in. Do what works for you! 
4.) Shop for gifts online. Shop for yourself in a store. 

This one has become my new favorite. I basically gather everyone's lists, everyone's Amazon's list and my own bullet journal lists that I have made over the year. I gather all the credit cards/gift cards/coupons (I am also my mom's personal shopper). I grab a cup of tea. In about 2 hours on a Sunday morning I can knock out all of my Christmas shopping. Done. All being delivered to my door. It's basically magic. 

So that is part A. Part B is after you have done all this shopping you need to go shopping for yourself. Dress up a little, grab yourself a Starbucks and walk around the stores you love the most. You are literally under no stress to buy anything for anyone else. Buy something small, something you love, and take care of yourself, too. 
5.) Write Christmas Cards

You never know when you might lose contact with someone. They may move out of the state, the country, have children, or they may pass away. This year, those you have a connection to, write them a Christmas Card. It isn't about the holiday. It is about reaching out and letting people know you are there. No matter who stopped communicating first or for whatever reason, that card might be just a little reminder that you are still thinking about them. It is worth every word you write, every envelope you lick, and every stamp you stick. Seriously. Connect. 

I am clearly no expert on the holidays. My favorite character is the Grinch because for the past 5 years I have quite literally been him. I would go into each Christmas wanting to swat at the Christmas lovers who sang every "Merry Christmas, Baby" refrain. Eventually I would come around to understand why people enjoy the time but each year the cycle would happen again. 

This year, I still love the Grinch but perhaps I am not as mad at the Whos down in Whoville quite as early this year. 
Thank you for contacting support! ❤ Happy Holidays!